Martie Bitzer – "On My Way 3/33" and "Had Some Lunch 2/15"
by Rebecca McKinley
A discovery of the three dimensional use of pewter and color has made Martie Bitzer quite a distinctive and intriguing artist. Her preference of working with abstract art very nicely compliments this interesting medium. The power of her art is not in the size of her petite pieces of pewter, but rather in the intricate designs. Much of Martie's work is inspired by African proverbs that are evident in
her subjects. One such idea has to do with the journey in life. We are all on our own journey, whether our pace is fast or slow. Much importance is given to the idea that we should enjoy ourselves while on the way to our destination. That's the basis of "On My Way 3/33". The piece features a female figure that is common to Bitzer's work, who is rather floating through her journey. A dove leads the way during her speedy travels and a turtle is there for when the voyage slows.
"Had Some Lunch 2/15" is a contrasting piece that shows another side of the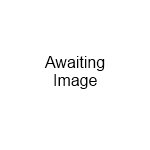 artist. This one is highly abstract and depicts a wolf having a very full stomach after finding some enticing treat to feast upon.  He appears to be prancing as if he's rather proud of himself. Depending on the viewer, the wolf could be perceived as either fierce or fanciful. After all, gobbling up their prey is what wolves do best.
Martie Bitzer shows a very nice display of her art on her homepage. Her pieces range from serene and motivational to winsome and humorous. They all seem to have an uplifting tone. A wise saying that she uses for one of her pieces could be used to sum up her work, "If there is light in the soul, there is beauty in the person."